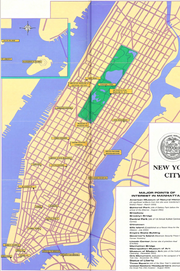 New York was devastated by the Orbs. Parts of Manhattan and Brooklyn were given to humans, who were not allowed to pass through their boundaries. Vandalism skyrocketed and living quality eroded. Buildings were destroyed, boarded up or taken by the Orbs' operations. Meanwhile the Orbs attempted to "purify" Earth's atmosphere for breathing more easily.
Manhattan
[
]
American Museum of Natural History

(79th Street & Central Park West): In March 2003 every significant artifact was transferred to

Mother Planet

. Used as a headquarter by the Underground.

Battered Park

: the site of the former Battery Park (Wikipedia link).
Broadway (Wikipedia link)

Central Park

(West 72nd Street): The Orbs planted landmines for the 1st annual

Human Survival Games

.

Empire State Building

(Fifth Avenue & 34th Street): central computer system and main radio transmitter.

Lincoln Center

: A former site of primitive ritual activites
Manhattan Bridge (Wikipedia link)

Template:WP\Metropolitan Museum of Art

Museum of Modern Art

: On December 2002 it was the site of the Cultural Cleansing

Orb Monument

: It was dedicated on November 25, 2002 to the conquest of NYC

Times Square

: Site of the New Year's celebration. Harry Jones' office

United Nations Headquarters

: It was destroyed during the Great Fire caused during the Invasion
Bellevue Hospital (462 First Avenue): processing humans into food and hatching their young.
Trinity Church (74 Trinity Place): Underground members hide stuff there.
Grand Central Terminal (15 Vanderbilt Avenue): Orbs' fleet of ships.

Wretched Excess Nightclub

(Greenwich Village): The club where Anna Osborne hides.

Sniveling Snots

sing there.

Abdul's Pawn Shop

(Greenwich Village):

Abdul

grants access to the Underground tunnels to Underground members
Vend-O-Deli (Upper West Side): Members of the Underground exchange messages here
Flatbush Bar (Flatbush Avenue): Underground hangout
Harry Jones' apartment (21 Pearl Street)

The Manhunter

's apartment (18C-7314 Fifth Avenue)
Osbornes' apartment (150 West 82nd Street)
Brooklyn
[
]
Other locations
[
]
Ellis Island

: In July 2003 it was established as a Resort Area for the Orb Alliance

Governor's Island

: Serves as maximum security prison for human violators

Statue of Liberty

: "purify" the air by pumping out fumes and the main radar and anti-air defense systems.